2019
9 TARS & 99 REMNANTS
SH/FT Contemporary Visual Art Exhibition
(2019)

There was a time,
devoid of words,
human drew on cave walls their ideas of heaven and hell,
what is seen and felt...

99 names of God.
99 state of a flawed human.

Plastic wastes of the imperfect soul, the disheartened, the absent, multi- faceted self.

9 shapes of tar.
human upon human-mades.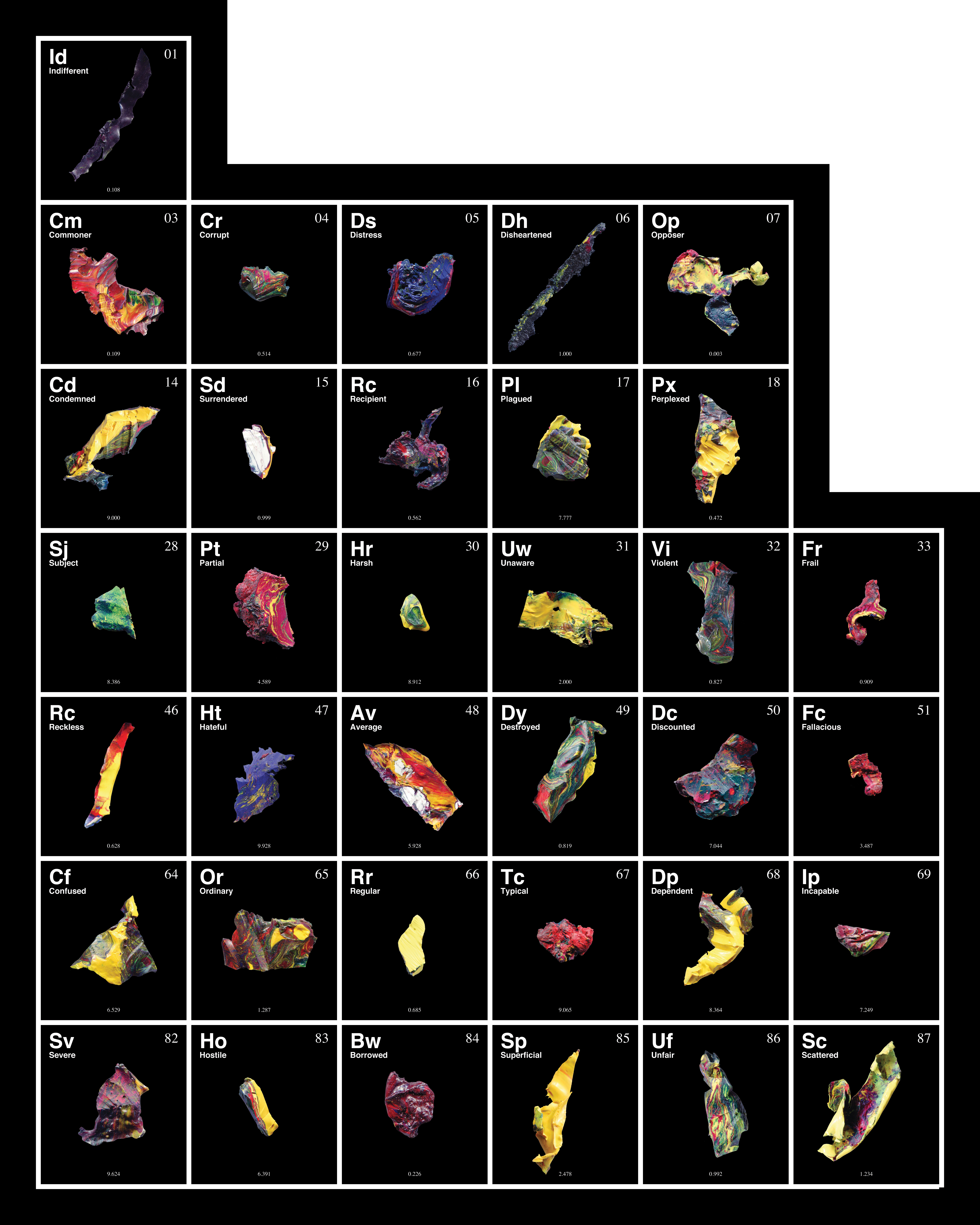 اسماء الله
الحسنى

الرحمن
الرحيم
الملك
القدوس
السلام
المؤمن
المهيمن
العزيز
الجبار
المتكبر
الخالق
البارئ
المصور
الغفار
القهار
الوهاب
الرزاق
الفتاح
العليم
القابض
الباسط
الخافض
الرافع
المعز
المذل
السميع
البصير
الحكم
العدل
اللطيف
الخبير
الحليم
العظيم
الغفور
الشكور
العلى
الكبير
الحفيظ
المقيت
الحسيب
الجليل
الكريم
الرقيب
المجيب
الواسع
الحكيم
الودود
المجيد
الباعث
الشهيد
الحق
الوكيل
القوى
المتين
الولى
الحميد
المحصى
المبدئ
المعيد
المحيى
المميت
الحي
القيوم
الواجد
الماجد
الواحد
الاحد
الصمد
القادر
المقتدر
المقدم
المؤخر
الأول
الأخر
الظاهر
الباطن
الوالي
المتعالي
البر
التواب
المنتقم
العفو
الرؤوف
مالك الملك
ذو الجلال و الإكرام
المقسط
الجامع
الغنى
المغنى
المانع
الضار
النافع
النور
الهادي
البديع
الباقي
الوارث
الرشيد
الصبور
The All-Compassionate

The All-Merciful

The Absolute Ruler

The Pure One

The Source of Peace

The Inspirer of Faith

The Guardian

The Victorious

The Compeller

The Greatest

The Creator

The Maker of Order

The Shaper of Beauty

The Forgiving

The Subduer

The Giver of All

The Sustainer

The Opener

The Knower of All

The Constrictor

The Reliever

The Abaser

The Exalter

The Bestower of Honors

The Humiliator

The Hearer of All

The Seer of All

The Judge

The Just

The Subtle one

The All-Aware

The Forbearing

The Magnificent

The Hider of Faults

The Rewarder

The Highest

The Greatest

The Preserver

The Nourisher

The Accounter

The Mighty

The Generous

The Watchful one

The Responder to Prayer

The All-Comprehending

The Perfectly Wise

The Loving One

The Majestic One

The Resurrector

The Witness

The Truth

The Trustee

The Possessor of Strength

The Forceful One

The Governor

The Praised One

The Appraiser

The Originator

The Restorer

The Giver of Life

The Taker of Life

The Ever Living One

The Self-Existing One

The Finder

The Glorious

The Unique

The One

The Satisfier of All Need

The all Powerful

The Creator of all Power

The Expediter

The Delayer

The First

The Last

The Manifest One

The Hidden One

The Protecting Friend

The Supreme One

The Doer of Good

The Guide to Repentance

The Avenger

The Forgiver

The Clement

The Owner of All

The Lord of Majesty & Bounty

The Equitable One

The Gatherer

The Rich One

The Enricher

The Preventer of Harm

The Creator of Harm

The Creator of Good

The Light

The Guide

The Originator

The Everlasting One

The Inheritor of All

The Righteous Teacher

The Patient One
Indifferent

Merciless

Commoner

Corrupt

Distress

Disheartened

Opposer

Losing

Hindered

Undignified

Destructor

Unruly

Crude

Condemned

Surrendered

Recipient

Plagued

Perplexed

Foolish

Loose

Burdened

Debased

Lowly

Dishonoured

Yield

Disregard

Neglect

Subject

Partial

Harsh

Unaware

Violent

Frail

Exposed

Unrewarding

Lowest

Little

Abandoned

Repressed

Ignorant

Cowardly

Selfish

Inattentive

Rejector

Mistaken

Reckless

Hateful

Average

Destroyed

Discounted

Fallacious

Sceptic

Weak

Insecure

Conceded

Blameworthy

Absent

Receded

Harmful

Given

Taken

Finite

Perishable

Confused

Ordinary

Regular

Typical

Dependant

Incapable

Unreliable

Halted

Hesitate

In-between I

In-between II

Vague

Blatant

Barred

Inferior

Wrong

Satisfied

Inflicted

Severe

Hostile

Borrowed

Superficial

Unfair

Scattered

Poor

Depleted

Aided

Impaired

Healed

Darkness

Deserted

Mediocre

Temporal

Lost

Tainted

Impatient